The Tony Mazzadri Surf Classic; Sept 23, 2006
The Sunset Cliff's Surfing Association's Annual Charity Fund Raiser is back with a new facelift...KneeRiding..
The Spoon Project
Four legendary shapers have become invovled in our introspective revitalization project to reconnect with the past using modern technolgy to put some long lost soul back into KneeRiding. Visit the Spoon website to stay abrest of all the many ongoing projects and people involved.
WindanSea Surf Club's Day at the Beach; La Jolla Shores, August 19, 2006
This annual event brings underprivalged kids from throughout San Diego to the beach and gives them a day to experience surfing for themselves. Mentor volunteers partner up with the kids and spend quality instructional time teaching them the basics of how to surf and handle themselves in the ocean. It's a great day for all and really makes a huge difference in these young children. Let's see some you of hero rippers come down and give something of merit back to our great pastime. Parking is rough, so again, get there early.
Sunset Cliffs Surfing Association GROM-FEST 2006; August 12, 2006
This is the thrid year for this event. The entire community supports this day for 100 kids. The AKC is now a Co-Sponser as our commitment makes a difference where it really counts towards keep KneeRiding alive. The AKC has the opening heat at 7AM. Get there early as parking fills fast.
Take Back the Rock; August 5, 2006
The first of designated days where the old guard stakes out the turf and spends a few hours of quality time at Big Rock with a little show an tell as we pass on all the old the tricks to the New Generation. This first adventure scored shoulder to head high surf for nearly three uninterrupted hours of gaping tubes and impoloding ledges. It was a throwback to long distant memories where it was only KneeRiders in the lineup. These kids are gonna explode out there in a few more years...just watch.
Pacific Beach Summer Classic 2006
Last year's courtesy demo has opened the door for more. Saturday June 10, be here early, heats start at 7AM.
Bird's Last Fish Fry; Oceanside Harbor, North Jetty, May 14, 2006
This was Eric Huffman's last appearance with his pet project. Every underground San Diego shaper who ever played an instrumental role in shaping the long standing Stevie Lis designs/concepts made an appearence to support KneeRiding's number two sons...the Fish...and the BirdMan himself. It was an exhilerating and sacred day seeing many old friends and faces camped out around Eric in the center island rotary where tall tales, mystical lies, and dark secrets were shared with all who made the effort to be a part of this very bold testament to to the world that San Diego is still the KneeRiding capital of the world. Today proved that nothing has died down here and is as strong as ever. The players in attendance today spoke in penetratingly clear conversational tones and were proof that the past 25 years of quiet action is a far cry from extinction.
Surfer Bowl XIX; Feb 4 & 5, 2006
The AKC again returns to this long running contest.
3rd Annual Fish Fry; Oceanside Harbor, North Jetty, May 2, 2005
The legenday fish beaches itself courtesy of Eric Huffman. View and ride some of the old school fish from his collection. Special guest Terry Hendricks will also reveal some of his creative twin fin spoons which can also be taken out for ride.
Surfer Bowl XVIII: April 9 & 10, 2005
The AKC has been invited back once again to this annual Charity Event. Details and entries still available on line.
NORTH SHORE PREVIEW:
Hope to see some of you heroes back home on Oahu in a few weeks...where only the surf does all the talkin'. Glad to observe more KneeBoarders are finally willing to take their act to the Main Arena. It's about time. Be safe, surf smart, spend a lot of time watching before rushing out like Superman. You will not lose face if you don't paddle out....remember, it is not your home break and you seriously have everything to lose with just one instance of poor judgement. Island Surf will humiliate you in the blink of an eye, not to mention destroy your confidence with even the smallest of miscalculations. Just keep in mind that the surf always wins. Just ask those who've attended the last two seasons for the first time.
Be willing to learn from observation.
Pay close attention to the insight you will recieve from those with long experience in the Country.
Bring the right equipment. Boards made for your local break will severly handicap you and add to the already high inherant risk factor.
Know your limits and stay within them.
All this poseur challenge crap floating around sounds good on the blue screen...but get real man.....it can lead to harm for those not experienced in the conditons and the power they will find at the foot of Bud's property. Squawking Myna birds are a dime a dozen. Ignore their incessant noise and stay focused with common sense. Building stature here is a long term process for many reasons....all of them dictated by the Surf. In Hawaii the surf does all the talking and it always has the last word....but then many of you are destined to find that out in one way, shape, or form pretty soon.

I'm happy to see the International KneeRiding Community slowly maturing and at long last willing to make a collective show of determination on the North Shore of Oahu. Better late....than never.
All I gotta ask is.....what the hell took everyone soo long?
NORTH SHORE HAWAII; Feb.22-March 15 2004
Blast Hawaii is holding it's third annual event again this Winter. Now days heroes are a dime a dozen. Think you got what it takes to tangle with serious surf? Think you are really World Class? Then maybe we'll see you there to back it up. Be prepared. It ain't your routine beachbreak. Many careers have ended on the beach when confronted with Hawaiian Power. Check out Bud's site for more details.
Sea of Joy: June 12, 2004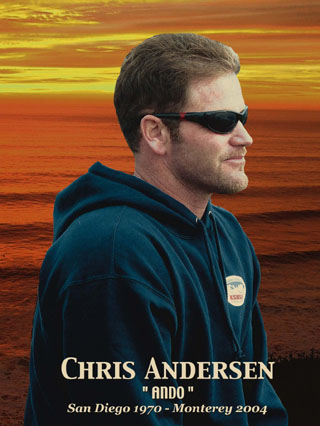 Chris Andersen was returned to his beloved Big Rock this evening in a private ceremony by his family. It was a peacefull, quiet evening, illuminated with soft hues of yellow, orange, and somber grey as we brought closure to Chris in this world. A perfectly lined up southern wall pitched out and rifled across the empty reef calling Chris home as his father waded into the steep shorebreak. He collapsed in grief and was supported in the surging water by his remaining two sons and his only daughter as he cast Chris's ashes into the cool foaming sea. Chris is now forever a part of his first love. His is a legacy of bold innovation, dauntless determination, and an unparalleled approach to surfing which has yet to be fully understood. His remaining ashes will be taken to his cherished Monterey where his brothers will bid him their last adieu, completing Chris's circle in this life. It was a privalge to have been a mentor. It was an honor to be a confidante. I will miss him dearly as a trustworthy friend, an unfathomable peer, and the loyal brother he became these past 20 years.
Godspeed Chris, you achieved more than you realized.
ALOHA PUMEHANA KAIKAINA
NORTH SHORE HAWAII; Feb.22-March 15 2004
Blast Hawaii is holding it's second annual event again this Winter. If you have what it takes to tackle serious surf, then make your plans now. Contact Bud only if your are serious in making an appearance. Don't be caught short this year. Get into a serious workout program today. For more information visit www.blasthawaii.com/Trip_04.html .
Remember, those who go...... have all the fun.
Surfer Bowl XVII: January 31-February 1, 2004
Although the promoters are slightly behind schedule this year, the AKC has been invited back once again to this annual Charity Event. Details
HAWAIIAN INVITATIONAL 2003
The Dream is over....It's A New Dawn!
Unbelievable! All the factors came together and the Country delivered surf and good weather for everyone who made the time to get over. All enjoyed themselves and truely found why the North Shore will always be the proving grounds for those willing enough to rise to the ultimate challenge. The local grapevine was lit up with talk of the KeeRiding crew staying at Sunset. Everyone was well recieved at every place we surfed. Thankfully no one recieved any debiitating injuries other than being humbled by the power and the rigors of Hawaiian surf.
Bottom line.... the surf did all the talking. The Hawaiian boys clearly demonstrated some power surfing and why they are the best in these conditions. They've set the bar of excellence well out of reach in their home grounds. Between their confidence in the water, and the physical demands of the surf itself, it was a challenge most visitors found daunting to say the least; for which they will thoroughly prepare for prior to their next visit. More later.....
Thanks to Bud, his lovely wife Ann, McGuire, Sears, Shinbara, the Town boys, and the wild men from Kauai for all their hospitlity, comeraderie, and especially their Aloha for entertaning this great international group of participants.
Again we thank everyone for their interest and support in making this dream a reality.
Surfer Bowl XVI January 25&26, 2003
The event ran smoothly and we had 3-5'surf for our early morning heats. Thanks to everyone entering in advance, we once again were able to negotiate for the best conditions. All surfed well inspite of the unfamilarity of the break. Long lefts were had from the south side of the pier through the contest area and beyond on occasion. For the second time in this annual event a traveling KneeMan went home with the first place trophy. Jamie McHugh from OZ took home a deluxe hand crafted, scaled replica of George Greenough's "Velo" for his victory. As with the last year's event, the crowd was once again in full support of some very good KneeRiding. Thanks guys.
In response to the anonymous whining from those who felt they were excluded, the responsibily and the lost opportunity to participate rests entirely upon the shoulders of those who failed to keep abrest of the event status regulary posted in the Notes for 7 months prior to the contest date. The same notification was sent out to all on the email list supplied by our former postmaster. Even then, if the mail was returned through a faulty or no longer viable address, it is not our responsibility to track you down. We rely upon each of you to provide us with your current mailing address. No one was intentionally exclude based upon the information each of you provided us.
Secondly, this event has never been portrayed nor marketed as a KneeBoard contest, this misinformation came from sources outside of the event organizers. It has been very well emphasized in all communication that our inclusion into this annual Charity event has always been contingent upon the Ocean Beach Geriatrics gracious nature, and the committed paid entries recieved one week prior to the event by those who wished to particapte in this community oriented showcase. Given that the dates were posted in early summer, and the apparent enthusisam by many to be a part of this function, I have yet to fill the full complement of 18 entrants we were allocated based on the previous year's turnout. A KneeBoard division has been a standard inclusion for the past 8 years. The show goes on whether there are three or 18 who elect to have some fun. The decision to tune in or out is entirely your undertaking. Spare everyone the tears, live with the choices you made. Next year please do keep yourselves informed.
Surfer Bowl XVI January 25&26, 2003
Jan. 15, 2003:
The meeting was a frantic one. The OBG's had turned down the solicitations by the corporate shills to work the crowd at the Super Bowl due to their unsportsman like conduct. We would be penalized and ejected from the premisis if we partook in any of their free libacious thirst quenchers. Question: How does one attend a football game, more or less the Super Bowl without a beer in hand. So what, we watch everyone have agood time? Tweeeeeet. No contest. Games over. They lose.....or so we thought.
Now it's on again as the NFL monster has capitulated, doubled our fee, and kicked in the suds.
So our organization is behind the gun...really bad. The other Presidents have sent out application forms by invite only this year. If you have been in a previous Surfer Bowl, and have supplied them with your email, then you should be recieving it soon if you happen to be one of the lucky random selectees. The powers that be made this decision and so we can only go with the program as is. Contact me if you do not recieve one by Friday 1/17.
*Those who do recieve one must respond directly to me no later than Sunday Jan. 19 if you plan on filling your alloted slot, otherwise it will be offered to the first person on the waiting list the very next morning.
******The KneeBoard heats will be run on Saturday as with all Club events. ******
Considering how many are interested in participating, and the limiting 18 slots available, this is the fairest solution for all those concerned, both for the entrants and the organizers. For all those who have never surfed in this event but would like to participate in this local charity contest, please contact me and I'll put your name on the availability list. All slots still open after this date will be filled by a President who draws names from a brown paper bag.
1st place trophies this year are scaled replicas of classic old sticks from the Duke's to Greenough's Velo.
January Schedule
Being prime time season for surf here, every weekend but the 25 & 26 I will schedule a surf with those interested in coming down for a day ...when there is a swell running of course. So far the start of the New Year has had some very big surf pounding the Pt. Loma reefs, with the majority of the days being double over head. There has also been a series of storms since mid Dec that have put the big wave reefs in the 3-4XOh zone a few times. Conditions have been treacherous during these swells as all the lineups change and the extremely rare mysto reefs have been going off. If this sounds like your ticket contact me and I'll keep you posted as to the conditions when these big ones arrive. There were 5 of us this past weekend for the swell that built to 2XOH by the afternoon, along with McStotts who came to check out the area. Noone and Robertson have been hooking up here regularly since Thanksgiving and have scored plenty.
Plan ahead to be there ...or miss out. contact